Apply now for our Second Annual Sustainable Practices Symposium, August 1 - 14, 2015, in Ewen, Michigan.
People of all creative backgrounds, experience levels, and fields of practice are encouraged to apply. Attendees can choose to take a workshop in Local Clay or Metal Casting, or propose a project that embraces the Visitor Center's rugged setting and adventurous attitude. New this year: make art with local sawmill operator and barn builder Mel Seeger at his Matchwood Sawmill!

We will gather to make art, share skills, exchange ideas, build community, and examine sustainability in life and in artistic practice. There will be opportunities for creative engagement with the community of Ewen throughout the Symposium including lectures, artist talks, community workshops and demonstrations, and public raku-firing and metal casting at the Ewen Arts Festival, along with an exhibition featuring Symposium participants and local artists.
Deadlines for Applications:
Work-scholarship applications: May 1st
ALL applications: May 15th
APPLY NOW at www.visitorcenterartistcamp.com
There will be opportunities for creative engagement with the community of Ewen throughout the Symposium including lectures, artist talks, community workshops, and public raku-firing and metal casting demonstrations at the Ewen Arts Festival, along with an exhibition featuring Symposium participants and local artists.
Questions: visitor.center.artists@gmail.com
VCAC Receives Grant for Ewen Arts Festival in 2015!
We are very excited to announce...
The Visitor Center Artist Camp's 2nd annual Ewen Arts Festival is supported by the Michigan Council for the Arts and Cultural Affairs Minigrant program, administered by the Copper Country Community Arts Council!
It was great working with Cynthia and the CCCAC team in order to ensure this years festival is a great success. Along with an exhibition of work from local and visiting national artists, the festival will be filled with local music and art-making, featuring a live aluminum-pour workshop and a local clay workshop with live raku-firing! We hope to see you on Saturday, August 8th at Centennial Hall in downtown Ewen!
Melissa Sclafani,
VCAC Community Collaborator and Development Coordinator
More info at: www.coppercountryarts.com
Mississippi based artist Kristen Tordella-Williams is at ONE Arts Center in Burlington, Vermont, as she presents Knot Work, with an opening reception Saturday, March 14th from 6-8 PM.
Knot Work is a series of sculptures and wall pieces that employ the use of weaving yarn, embroidery, and knotting through handmade paper, wood, and mixed media.
LAST MONTH at

ONE Arts Center: Maureen O

'Leary Presents Honey Lane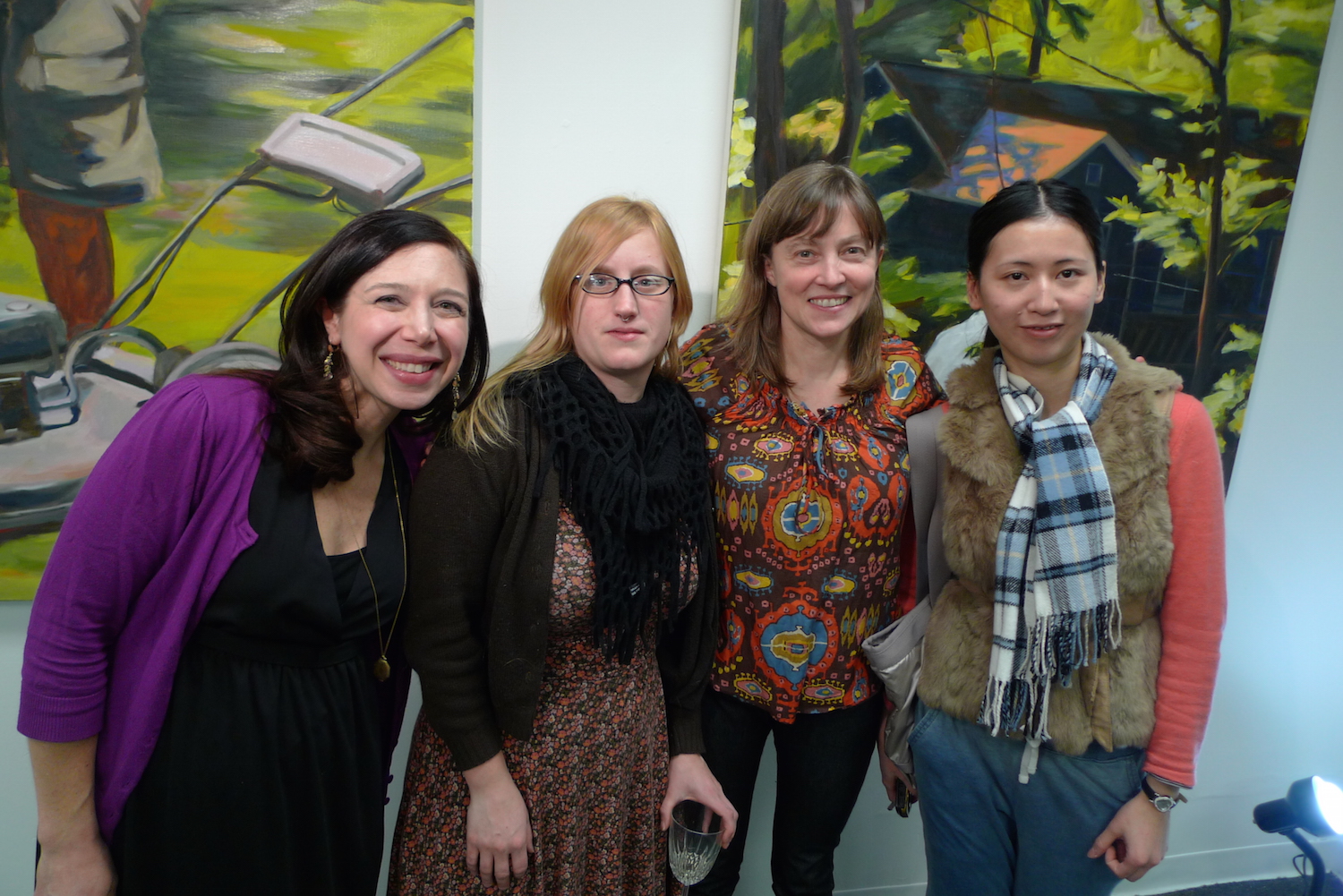 In February, Maureen O'Leary hung 13 paintings for her show at One Arts Center, Honey Lane (or number 352), a body of work that depicted motifs of the suburbs and exurbs that teased out individuality from repetition.
ASM at Garner Art Festival in May 2015
ArtShape Mammoth will be creating installation and performance work for exhibition during the Garner Art Festival, at the Garnerville Arts and Industrial Center, the site of a 19th century textile mill. Light Industrial Ecosystem is the work of twelve sculptors and performance artists, using body and material to interact with space and history. ASM's Traveling Foundry Coordinator, James Lentz, will be leading hands-on aluminum-casting workshops throughout the festival. Scratch-block sand molds will be available for members of the public to carve their own design, creating a relief tile to be poured in aluminum on-site.
The Garner Arts Festival is May 30th - 31st.
Exhibition is on display through June 15th.
Garner Art Center, Garnerville, NY
35 miles from Manhattan in the lower Hudson Valley
www.GarnerArtsCenter.org
Garner President Robin Rosenberg says about the festival, "This event is like no other art exhibition. Our complex of mill buildings houses 10,000 square feet of gallery space, and is the living, breathing, working home where artists create their art for a living. The public gets a chance to see the open studios and live demonstrations of a variety of artisans, while wandering the back alleys, alcoves and creekside sculpture trail of this historic, Civil War-era textile mill."
Join the ASM Community!
ArtShape Mammoth has been having a great first year! We are pleased to announce we will be expanding to accept five new artists into our representation program in our second year. To be considered, submit a letter of interest to artshapemammoth@gmail.com along with your website link by June 1st.
Spatial Intuitions at the University of Vermont
Spatial Intuitions was at Living and Learning Gallery at the University of Vermont Feb 11- March 13, 2015, with a Panel Discussion and Opening Reception Thursday, February 12th.

Featuring the work of Vermont artists Brooke Monte and Marilyn Maddison, and ASM artists Kristi Arnold and James Lentz, Spatial Intuitions displays work exploring and challenging perspective, depth, and pattern; work holding unexpected geometric surprises. Moving from everyday awareness into a new existence of pattern and abstraction of pattern, the show strives to create an experience that draws the viewer into an alternate understanding of the work and and the surrounding world through the universal language of mathematics.
ASM at Governors Island Art Fair, September 2015
ArtShape Mammoth is thrilled to be included in the Governor's Island Art Fair in NYC this September! We will see you there in Fall!
The GIAF is comprised of 100 varied exhibitions in 100 rooms of the abandoned military barracks of Colonel's Row, with large-scale sculpture and live music outside on the grass.
Governors Island Art Fair is organized by 4heads, a New York City nonprofit organization created by artists for artists.
ASM Seeks Governing Board
As we prepare to incorporate as an upstanding and legitimate non-profit organization, ArtShape Mammoth is seeking individuals who would serve on our governing board. There are a variety of skills and experiences that we are looking for and a formal call will be put out this spring. However, interested parties need not wait to enquire. If you or someone you know may be a fit, please contact Joshua Hosterman for further information, at joshua@artshapemammoth.org
More Photos From Recent Exhibitions!